Welcome digital traveler! "Fairies of the Realm"™ is more than just another site with fairy pictures. It encompasses all of the fay, and includes Myths, Dragons, Knights, Fantasy, Legends, and Lore. It was designed to be interactive and is graphics, sound and JavaScript intensive. Some pages may take a while to load. It is best viewed with Microsoft Internet Explorer. You may download the latest version free by clicking here. A conscious decision was made to not technologically retard this site because some browsers aren't compatible. I apologize if this offends some brand loyal users.
Those of you who are ready, please enter through the menu on the right and enjoy your journey through the site. There is lots to see, do and hear. This is a slow paced site - relax, view the pictures, listen to the music and read the stories. Move your mouse cursor around the pages after they completely load (hint: sometimes things will happen and other times not). If you would like to leave feedback, there is a guestbook and a forum for your use. They too will make interesting reading as they get entries. The guestbook is specific to this site and the forum is a community of sites that share the messages. If you have a website of your own, or a favorite one, be sure to add a link to it so others may see it and go visit. If you enjoy the forum and would like one customized for your site there is a hyperlink you may click on (on the forum page) and do so for free.
Those of you that arrived by chasing a pixie around a WebRing may continue on that ring by accessing the WebRings page. We know how mischievous they can be, borrowing a bit and a byte from your site and running off with them, for we too often give chase to try and get the bits and bytes back. Should you find they have removed a bit or a byte without us noticing, and it causes a page to malfunction, please let us know by filling out the form on the Malfunction page. Thank you - enjoy your stay as we are at your service!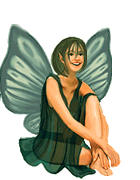 There is a small gift shop setup where you can purchase books, videos, and music related to the theme of this site. All profits go towards keeping it in operation - paying for server space, purchasing software, and other such expenses. So, naturally, you are encouraged to visit it and make whatever contributions you would like. All merchants have satisfaction guarantees and secure servers. They are independent sites - Links to their site from this site do not constitute an endorsement of this site by them.
---
Home
Contents
Gift Shop
Awards and Credits
WebRings
About Fairies
Types of Fairies
Troll's Tavern
Wicca & Witches
Mystery Warrior
Life and Death
Dragons Tale
Good Fay Day
Bad Fay Day
Fairy Bubbles
[Sign Guestbook]
[View Guestbook]