2ARMED
Home
Contents
WebRings
Link To Us
Search
Feedback
Home
Home
NRA
SAS
50CAL
50MRM
GOVT
DOCS
Remembrance
FACTOIDS
LINKS
THE FLAG
GUN CLOCK
BANS/BOYCOTTS
FARCE
NUMBERS
INEPT
FORUMS
Add A Link
Sign the Guestbook
View the Guestbook


Tell A Friend:


If you want to keep your freedoms, you're in the place - but 70 million other American gun owners aren't. Tell them - Pass-it-on!
Please consider making a donation to help finance Musters, pay for advertising and to purchase educational materials.

Join The National Rifle Association Today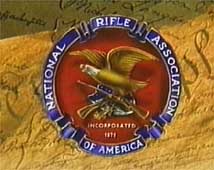 Protect your Second Amendment rights!
The NRA is you -- its members ... millions of Americans representing a diverse contrast of age, sex, race and religion. You're patriots one and all. You believe in the Constitution, staunch in the defense of your rights and you actively pursue some of this country's finest traditions - Hunting and Sports Shooting. Since its incorporation in 1871, the NRA has grown as a service organization involved in all aspects of the shooting sports and a proud defender of the Bill of Rights.
NRA membership has many benefits. Here are highlights of the tangible ones:
An official NRA Membership ID card - showing your Membership ID number and expiration date or Life Member status. You should carry this card with you at all times.
With all regular memberships, you will get a choice of subscription to the American Rifleman, the American Hunter, the American Guardian or the Insights.
$1000 Basic Arms Care - gun loss insurance and $10,000 Accidental Death and Dismemberment insurance. Special provisions and limitations are outlined in the Master Policy on file at NRA Headquarters. Take advantage of the exclusive members-only discounted group rates on life, health, property, and liability insurance. You can request printed materials on the plans of your choice through this website or by calling these toll free numbers (ask for offer 8848): for Life and Health, phone 1-800-247-7989; for Liability and Property, phone 1-800-544-9820. Availability varies by state.
Law Enforcement Officers killed feloniously in the line of duty are covered for $25,000. Special provisions and limitations are outlined in the Master Policy on file at NRA Headquarters.
Car rental discounts with Hertz (CDP# 166609) - call 1-800-654-2200 and National (Discount # 5130054) - call 1-800-Car-Rent.
40% and up discounts of the ICC tariff rates on interstate moves of house-hold goods, plus up to $50,000 free insurance on your possessions from NorthAmerican Van Lines - call 1-800-524-5533 for information or a free estimate.
TLC, The Laser Center, is North America's largest, most experienced provider of laser vision correction services, with over 50 locations. TLC is offering all NRA members and their immediate families: a savings of $500 ($250 per eye) off their customary fee for laser vision correction; a FREE complimentary eye evaluation and consultation to determine if you are a candidate; the TLC Lifetime Commitment for qualified candidates, ensuring your best possible vision for life; a travel allowance for members living more than 200 miles from a TLC center location: affordable and convenient payment options. This plan may not be combined with other savings offers. To take advantage of this Discount Program, all you need to do is call the TLC toll free number 1-877-PLAN TLC (1-877-752-6852) to arrange for your free consultation. Be sure to mention that you are a member, or immediate family member, of the National Rifle Association. Show your NRA membership ID card at the time of your consultation to receive your discounted rate.
The following hotels give NRA members a discount of up to 30% off their standard room rates: Days Inn -- (800) 268-2195; Howard Johnson -- (800) 769-0939; Ramada -- (800) 462-8035; Travelodge -- (800) 545-5545; Wingate Inn -- (877) 202-8814. NRA members MUST make reservations by calling the above toll-free phone numbers and giving the NRA Benefit ID # 00020661.
Capital for Knowledge -- The NRA Endorsed Student Loan Program -- provides NRA members and their families a wide range of education loan options including: undergraduate and graduate student loans, education loan consolidation and personal computer loans. Applying for a loan is easy! For more information or to apply for a loan, visit the Capital for Knowledge Web site or call 1-888-651-LOAN.
American Airlines (AA) offers 500 bonus frequent flyer miles on every ticket booked.

Continental Airlines Discount -- We have arranged special airfare discounts on your air transportation to any NRA meetings or seminars on our Official Carrier, Continental Airlines. To take advantage of this special offer, please call Continental Meeting Works Reservations at 1-800-468-7022 and refer to Reference Number NR9CC5. Continental has arranged for special discounts off their lowest fares and reduced rate zone fares that do not require a Saturday night stay. If you prefer to use your own Travel Agency, simply ask them to call Continental for the specific pricing offer filed with the above Reference Number and to put the code ZR3J in the Ticket Designator Box on your ticket. Following these instructions will ensure you receive the best possible price on your ticket and our organization receives the maximum group productivity benefit from Continental. If you have any questions, or for more information please call 1-800-672-3888.
NRA Check Program -- if you would like to get a free brochure for checks or address labels, please call 1-800-859-7086.
NRA Real Estate and Home Mortgage Program -- Substantial savings and services are available to NRA members including a cash bonus up to $750 when you by or sell a home, same day loan decision on mortgage applications, and mortgages through the program will never be sold or reassigned. Also, special mortgage financing programs are available such as no down payment and programs for members with less than perfect credit. Call 1-800-551-2047 for free expert real estate and mortgage loan counseling.
NRA Personal Portfolios -- The NRA is proud to introduce to its members a unique investment advisory service that combines sophisticated management strategies and mutual fund diversification with the simplicity and convenience of a consolidated brokerage account. Help secure your future while protecting your Second Amendment Rights! For more details and a complimentary investor profile analysis please call 1-800-328-9199.
Framing Success -- The NRA has commissioned the design of a beautiful frame especially for our valued Members. A 100% True Conservation mat that will protect the certificate for life from discoloration. The mat is beveled cut for maximum visual effect and perfectly fits the NRA certificate. Please call 1-800-677-3726 for more information.
Ask at your local gun store about the NRA Member Discount. Many gun stores, as well as some outfitters, car dealers and some other businesses give discounts to NRA members. Always have your membership ID card with you.
The most important benefit of NRA membership, however, is the defense of your Constitutional right to keep and bear arms. NRA-ILA tracks the issues and alerts members about legislation involving firearms and hunting at the federal, state and local levels of government. Successful legislative action begins with you -- the individual member. For information regarding legislative action or to become an ILA grassroots volunteer, call 1-800-392-8683.